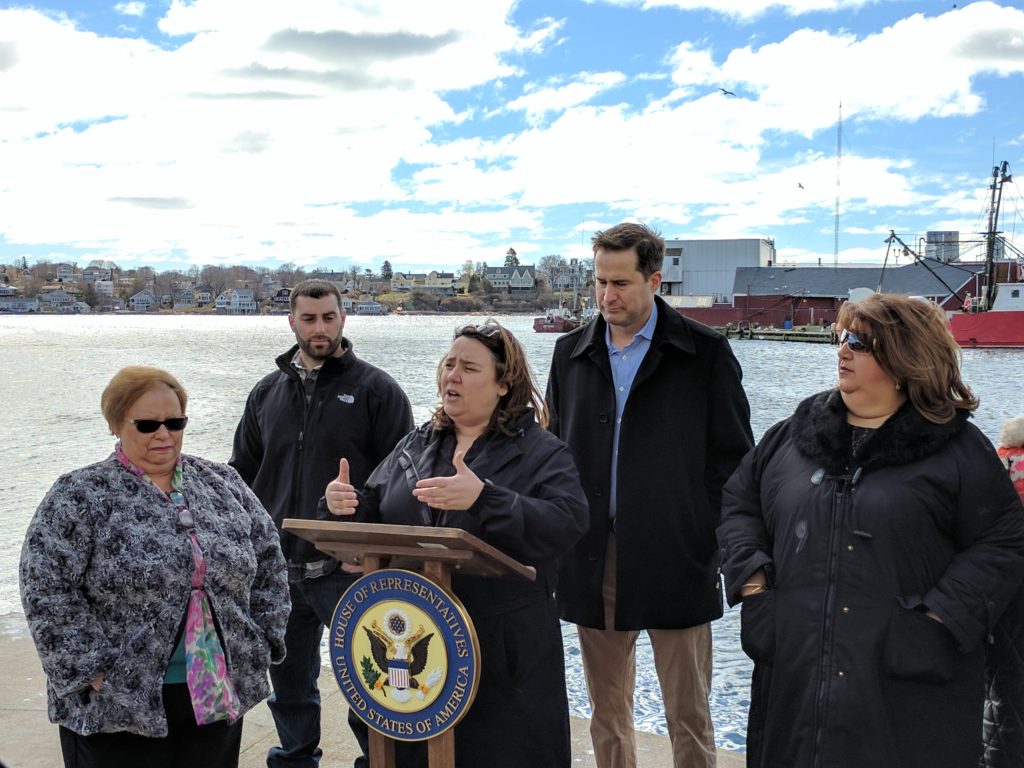 Prior to serving as Cape Ann's state representative, Ann-Margaret practiced law within the community in her Gloucester-based office. Part of Ann-Margaret's practice was representing fishermen and the fishing industry businesses. She observed the abuse of NOAA's law enforcement agency toward fishermen and fishing industry business owners. Working with the fishermen of Cape Ann, she was able to document them and report them to superiors at NOAA and federal elected officials such as then United States Senators Ted Kennedy and John Kerry, and United States Congressman John Tierney.
Advocating for Our Fisheries
In 2009, Ann-Margaret used her legal and political background to build a coalition of seaport legislators including Massachusetts Speaker Robert DeLeo and Massachusetts Senate President Therese Murray to seek a federal investigation by the Inspector General. Three investigative reports later, the Inspector General revealed wrongdoing and abuse involving federal agents at the National Oceanographic and Atmospheric Administration. The revelation of wronging resulted in an apology and $649,527 being returned to fishermen and fishing industry participants.
Ann-Margaret also worked closely with Attorney General Martha Coakley to take the federal government to task on the implementation and development of federal regulations. Attorney General Coakley won one of these lawsuits. Ann-Margaret has made it her mission to be sure that the legislators on the Federal level were aware of the plight faced by local fishermen since the groundfishing industry was declared an economic disaster in September 2012. In 2014, $75 million was awarded in disaster relief to the nation's fisheries.
Working for Better Fisheries Science
Ann-Margaret worked tirelessly to make the Gloucester Marine Genomics Institute (GMGI) a reality. GMGI's first research project was to sequence the genome of the North Atlantic Cod, with the aim of learning more about the spawning activity and grounds of the cod to better inform fisheries regulators on the protection of future generations of fish. GMGI's early successes ultimately lead to the state investing $2.7 million in a new facility on Gloucester Harbor, where they continue to have a focus on improving the science behind fisheries regulation. Moreover, GMGI is an important research partner of the Massachusetts Division of Marine Fisheries and the University of Massachusetts Amherst/Marine Station located in Gloucester.
Supporting Our Fishermen
As the daughter of a fisherman and an attorney who represented those in the fishing industry, Ann-Margaret understands the challenges that fishermen and their families face relative to qualifying for affordable health care coverage and other work related benefits. Working with legislators from other fishing communities, Ann-Margaret successfully led a effort in 2018 for an increase in funding for the operation of the Fishing Partnership from $1 million to $2 million per year to provide services to fishing families. The Fishing Partnership delivers health care coverage, safety training, and legal and financial services to over 7,000 fishing families in Massachusetts, including 700 households in Gloucester, Rockport, and Essex.
Protecting Our Ocean
Following the proposal by the Trump Administration to open up new areas of the New England coastline to offshore drilling, including Georges Bank, Ann-Margaret gathered the support of 54 of her colleagues on a letter she authored urging Governor Baker to oppose the Trump plan, emphasizing the potential economic damage to industries in Massachusetts that could be done by oil drilling off the shores of New England, highlighting the risks to the fishing industry and tourism.
Posts related to FISHERIES: