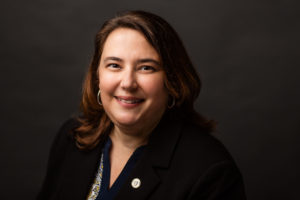 The daughter of a fisherman and school librarian, lifetime Gloucester resident Ann-Margaret Ferrante serves the communities of Cape Ann in the Massachusetts House of Representatives.
Currently, Ann-Margaret is the Vice Chair of the House Committee on Ways and Means and sits on the House Committee on Post Audit and Oversight, House Committee on Operations, Facilities and Building Security, and the House Committee on Steering, Policy and Scheduling. She has previously served as the First Division Chair of the Massachusetts House of Representatives, House Chair of the Joint Committee on Economic Development and Emerging Technologies, House Chair of the Joint Committee on Community Development and Small Businesses, and House Vice Chair of the Joint Committee on Environment, Natural Resources and Agriculture, as well as a member of several other committees. In addition, she is the House Chair of the Tech Hub Caucus and serves on the Gaming Policy Advisory Committee. In all of these roles, she has been a dedicated and persistent advocate on behalf of the people of Cape Ann.
A graduate of Tufts University with a double major in Economics & International Relations, Ann-Margaret furthered her education, earning her Juris Doctor at Suffolk Law School and her master's degree in Public Administration at Harvard Kennedy School of Government. Upon graduating from law school, she practiced law in Gloucester, specializing in fisheries and land use issues. She has served on numerous boards and commissions in the community, including Cape Ann Commercial Fisherman's Loan Fund, Sawyer Free Library, and as an incorporator with Cape Ann Savings Bank.
Ann-Margaret works tirelessly on advocacy issues pertaining to fisheries, education, veterans, the disabled, small businesses and economic development for Cape Ann. She has spearheaded the effort to engage new technology for stock assessments to save the fishing industry, retain local businesses, and bring new opportunities to Cape Ann residents through vocational programs and industries such as marine biotechnology and the building trades. In addition, she is a strong supporter of the creative economy and – working with the Massachusetts Cultural Council – was instrumental in bringing Cultural Districts to Cape Ann in order to retain and expand tourism and the arts and the economic benefits they provide.