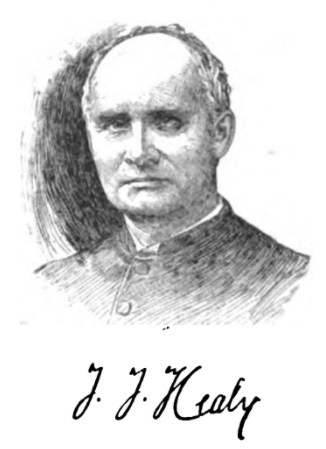 In 2017, Representative Ferrante established the Jeremiah J. Healy Service Award to be given to an individual who best epitomizes the social gospel of Matthew: "For I was hungry and you gave me food, I was thirsty and you gave me drink, I was a stranger and you welcomed me, I was naked and you clothed me, I was sick and you visited me, I was in prison and you came to me."
Jeremiah J. (J.J.) Healy was a highly regarded priest at St. Ann's Church in Gloucester, Massachusetts from the time he arrived in Gloucester in 1871 until the time of his death in 1910. During his time as permanent rector, he served the Cape Ann community by living social gospel. Healy built St. Ann's Church, the St. Ann's Rectory and Convent. In doing so, he educated and employed immigrant families, primarily those that "need not apply."
Healy established a fund for the City of Gloucester for the care of the poor, built and dedicated the non-sectarian Gloucester Free Library, which was open to all residents of Gloucester and made the single largest contribution to the Addison Gilbert Hospital for the "free care of the poor."
Jeremiah J. Healy Service Award Recipients
2017: Father Ronald Garibaldi received the first J.J. Healy Award for his work in founding the Grace Center, which offers a safe, free day resource center for people who are homeless and others, including older or disabled adults, isolated community members, and people at high risk of or currently in crisis.
2018: Michael Arsenian, MD received the J.J. Healy Award for the use of his considerable knowledge and skills for the care of Cape Ann's sick and the expansion of the cardiac services at Addison Gilbert Hospital, a beneficiary of Rev. Healy's generosity.
2019: Julie LaFontaine received the J.J. Healy Award for her work at The Open Door Food Pantry, using her vision and managerial skills to improve and expand the food pantry's ability to serve those in need on Cape Ann.
2020: Lenny and Dottie Linquata received the J.J. Healy Award for their longstanding committment to helping those in need on Cape Ann: hosting events such as the Valentine's Day fundraiser to benefit Meals on Wheels, welcoming the Grace Center to the Gloucester House when it needed a temporary space, organizing the annual Salvation Army collection on Cape Ann, and supporting our local veterans.
2021: Leah Lovasco, Patty Wall, Kristin Michel, Melanie Wall-Gabriele, and Cindy Rich from "We're All in this Together" received the J.J. Healy Award for their efforts to protect and provide for members of the Cape Ann community that needed their strength, companionship, love, and gifts to make it through the COVID-19 pandemic.